**Please note – sling workshops will not be available until further notice**
Occasionally we will run group workshops which will focus on a specific skill eg. back carrying. These workshops are a great way to learn something new, and meet new friends!
Do you have a group of friends who all want to learn the same skill? Bespoke workshop bookings can also be arranged. Please contact us for more information.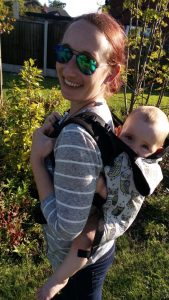 "I attended the back carrying workshop this week. Gemma was fantastic and explained very clearly and demonstrated what to do. We then were able to practice with dolls and were supported to have a go with our babies. Lovely friendly atmosphere and left feeling confident to give it a go at home."